---
Date: 15 October 2014
Comments: 45
Author: saxani
---
In 2011, I produced/directed a music video for the band I played in, Little City. It was meant to be sort of an 'ode to Toronto' – four cyclists with cameras mounted on their heads weave their way through downtown Toronto, crossing paths and interacting with one another and their surroundings. At the end of the video, they meet at the same place, and the same time, on the waterfront.
It was a bit of a logistical nightmare for a no-budget production, but we did alright. But it proved to be a post-production nightmare. Speeding up the 20-minute journey to fit in a 5-minute song made everything shaky and unpleasant to watch (and no amount of stabilization can solve it without completely killing the image quality). If I ever even solved that, the next hurdle was how to share the video.
My original intention was to create an interface where someone could click between the videos and see where each cyclist is. However, in 2011, after talking to people who are smarter than I am, it seemed like it was going to be difficult to do without paying someone lots of money. I was then going to use a product called 'SwitchCam', a Mark Cuban backed startup that would sync multiple sources and play back and allow the user to 'direct the show', but the start up unfortunately failed.
So, it appeared to be a failed music video, but after seeing the capabilities of Javascript/DOM, I felt inspired to give it a go.
Unfortunately, one week doesn't seem enough to pull this off (and I still have more learning to do to get this to a certain point).
With lots of help from Sam Slover, I had lots of success getting a local version of the video to playing, but once uploaded online, it's just not working even close to properly. Even when each video is playing at a low bitrate, it appears as though there's just too much information for the client side to decipher.
Here's a video of me using it locally: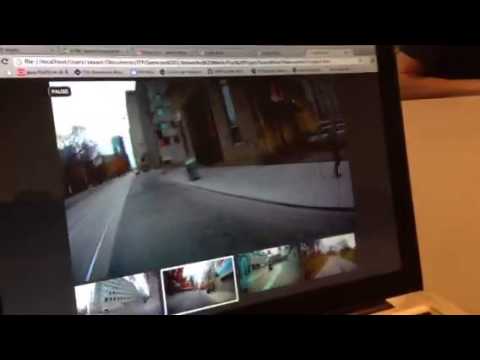 And here's a link of my online video, hardly working.
I still maintain it's a cool concept. I would really like to pair GPS coordinates with the video, so when watching them, you can see where they are in Toronto. This is just going to take a lot of figuring out to get maximum 1mpbs stream going to users, and to get it all working smoothly and looking sharp.
Thanks again to Sam and Shawn for spending lots of time helping me make this concept come (half) true.